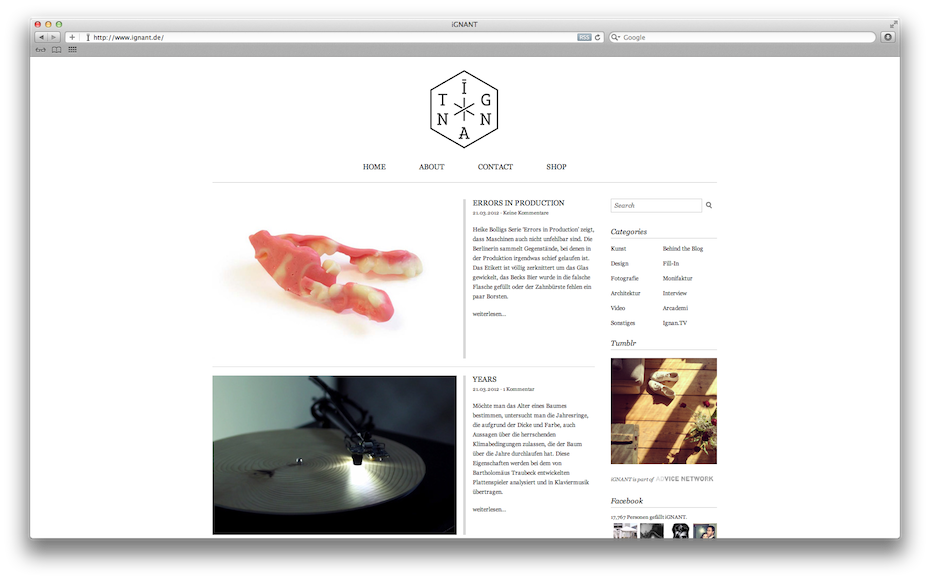 The world of iGNANT expresses itself in terms of ideas and creative output. By means of the internet esthetic standards have been spreading faster than ever before, and the conclusions drawn from new ideas are within a new range now.
Picking up this speed iGNANT is creating itself as an interdisciplinary blog featuring photography, arts, architecture and design by using the signs of its peculiar language in abundance. A language that pictures all that's interesting, amazing or simply beautiful. Moreover iGNANT transfers its own message in columns like iGNANTravel presenting spots far off the standardized routes or iGNAN.TV with portraits of remarkable artists or projects.
You can find daily updates for up to 300.000 users per month sharing the views and iGNANT philosophy of style. In 2011 iGNANT got the Golden Lead Award in the category "Weblog of the Year" and was nominated for the "Grimme Online Award" at the same time.
Visit: www.iGNANT.de